inspiration
La Vénus de Milo (detail)
Late 2nd century BC
Louis XIV (detail)
Hyacinthe Rigaud, 1701
the next series?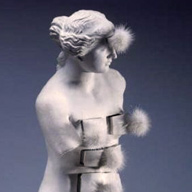 Vénus de Milo aux tiroirs
Salvador Dali, 1936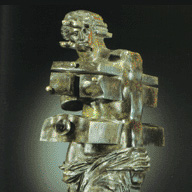 Métamorphose topologique de la Vénus de Milo traversée par des...
Salvador Dali, 1964
did you say designer + programmer?
What we create is highly influenced by the tools we use. Beyond the mainstream software offered by Adobe/Macromedia, I believe that the digital nature of the medium offers an endless field of possibilities for us to explore...


first series
As an illustration, I crafted a small piece of software that lets you manipulate a 3d model of the Vénus de Milo which serves as a surface for mapping different kind of textures, either vectorial or procedural.

The following flash animations (click to launch them in a popup) are one of the many renderings it is possible to create with such a tool:



1/2. height variation on drapé with grid followed by fleur-de-lis pattern




3/4. drapé with fur (left: ermine-dotted)




5/6. ground level variation (right: inversed) on drapé with parallel lines


Naturally, the same program can be easily tweaked to generate QuickTime movies, animated gifs, PDF files, etc.


the making of
In lieu of a very detailed section: a short overview of what it takes to...


core
external assets
how to create one's own Adobe Illustrator parser
always useful
future plans
• producing a new series of animations.
• experimenting with the mobile medium.
• making an online version of the tool.
• opening the source...