What is a thoub? A thoub (pronounced thaa-wb) is the traditional Palestinian dress, full and with long sleeves, characterized by colorful embroidery on the chest, arm, or hem areas. Modern thoubs are said to be a mix of Roman, Greek, Coptic, Byzantine and Arab styles - all cultures which, at some time, predominated in historic Palestine.
The thoub was worn both in daily life and on special occasions. The embroidered thoub acted as a guide to a woman's personal skills, financial status and local identity. For centuries, the thoub was the only socially accepted outfit for a village woman to wear in public, for it combined the freedom needed for labor with enough covering to ensure modesty.
The thoub had to be hardworking enough to stand up to the hard physical labor of agricultural life. In the words of Im Ahmed:
« Before, I had a thoub for every day. I would work on the land, cook bread, look after the goats, harvest the grapes. Every occasion had a thoub - harvesting corn and wheat, picking the grapes... »
The most noteworthy aspect of a thoub was not its durability, however, but the large blocks of intricate embroidery located on the chest, sides, sleeves, and front or back hem. The central patterns were found on the chest panel, which is said to protect the vulnerable chest area from the evil eye, bad luck and illness.
Although everyday thoubs were work clothes, every woman had to have at least one special thoub to wear for occasions - funerals, weddings and visits to the city. Among Bedouin women of the Negev, a woman's newest thoub was known as the "thoub ad-dis" - the "hideaway dress" because it was taken out of storage only for special ocassions. The next-best thoub was worn for entertaining guests, and so the order continued, with the oldest thoub reserved for everyday menial work.
Women would embroider thoub panels separately, piecing them together with sections of silk or linen once all the sections were complete. « We would embroider the pieces and then give them to my uncle who would sew them together », reminisces Im Ibrahim.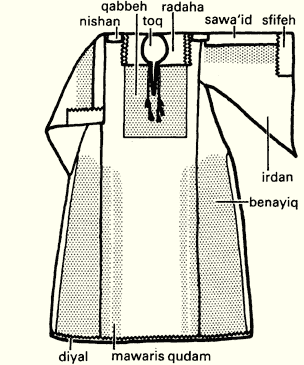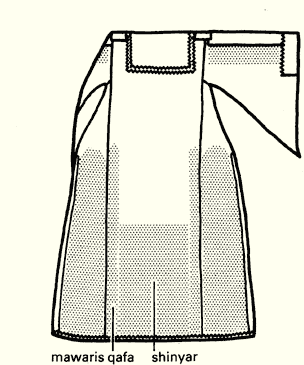 Thoubs could have over 20 sections, depending on the regional style. The Bethlehem dress was the most complex with 25 pieces, the Ramallah dress had 21 pieces, and the simple Gaza dress usually just 14 pieces.